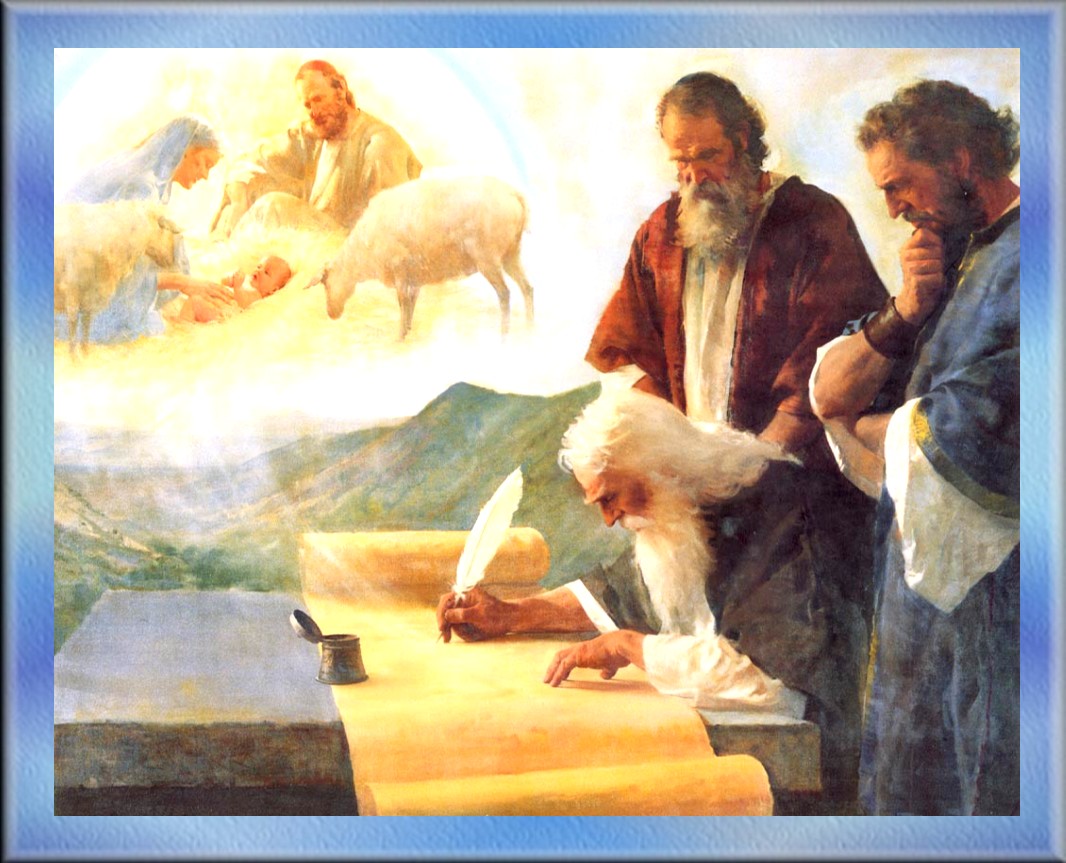 It Is Written
Prophecy
Malachi 3:1

Behold, I will send my messenger,

and he shall prepare the way before

me: and the Lord, whom ye seek,

shall suddenly come to his temple,

even the messenger of the covenant,

whom ye delight in: behold, he shall

come, saith the LORD of hosts.
Fulfilled
Matthew 11:10
For this is he, of whom it is written,
Behold, I send my messenger before
thy face, which shall prepare thy way
before thee
.
(Mark 1:2, Luke 7:27)
Prophecy
Isaiah 7:14
Therefore the Lord himself
shall give you a sign; Behold,
a virgin shall conceive, and
bear a son, and shall call his
name Immanuel.
Fulfilled
Luke 1:27
To a virgin espoused to a man
whose name was Joseph, of
the house of David; and the
virgin's name was Mary.
Matthew 1:23
Behold, a virgin shall be with
child, and shall bring forth a
son, and they shall call his
name Emmanuel, which being
interpreted is, God with us.
Prophecy
Luke 1:36
And, behold, thy cousin Elisabeth,
she hath also conceived a son in her
old age: and this is the sixth month
with her, who was called barren.
Luke 1:13
But the angel said unto him,
Fear not, Zacharias: for thy
prayer is heard; and thy wife
Elisabeth shall bear thee a son,
and thou shalt call his name John.
Fulfilled
Luke 1:63
And he asked for a writing table,
and wrote, saying, His name is
John. And they marveled all.
Prophecy
Genesis 49:10
The scepter shall not depart
from Judah, nor a lawgiver
from between his feet, until
Shiloh come; and unto him
Shall the gathering of the
people be.
Fulfilled
Luke 2:4
And Joseph also went up from Galilee,
out of the city of Nazareth, into Judea,
unto the city of David, which is called
Bethlehem; (because he was of the
house and lineage of David:)
Luke 2:7
And she brought forth her firstborn son,
and wrapped him in swaddling clothes,
and laid him in a manger; because there
was no room for them in the inn.
Prophecy
Jeremiah 31:15
Thus saith the LORD;
A voice was heard in
Ramah, lamentation,
and bitter weeping;
Rahel weeping for her
children refused to be
comforted for her children,
because they were not.
Fulfilled
Matthew 2:16
Then Herod, when he saw
that he was mocked of the
wise men, was exceeding
wroth, and sent forth, and
slew all the children that
were in Bethlehem, and
in all the coasts thereof,
from two years old and
under, according to the
time which he had diligently
inquired of the wise men.
Matthew 22:18
In Rama was there a voice
heard, lamentation, and weeping,
and great mourning, Rachel
weeping for her children, and
would not be comforted, because
they are not.
Prophecy
Isaiah 42:16
And I will bring the blind by a
way that they knew not; I will
lead them in paths that they have
not known: I will make darkness
light before them, and crooked
things straight. These things will
I do unto them, and not forsake
them.
Fulfilled
Matthew 3:3
For this is he that was spoken
of by the prophet Esaias, saying,
The voice of one crying in the
wilderness, Prepare ye the way
of the Lord, make his paths straight.
Prophecy
Isaiah 61:1
The spirit of the Lord GOD
is upon me; because the LORD
hath anointed me to preach good
tidings unto the meek; he hath
sent me to bind up the broken-
hearted, to proclaim liberty
to the captives, and the opening
of the prison to them that are
bound;
Fulfilled
Matthew 3:16
And Jesus, when he was baptized,
went up straightway out of the
water: and, lo, the heavens were
opened unto him, and he saw the
Spirit of God descending like a
dove, and lighting upon him:
Luke 7:22
Then Jesus answering said unto
them, Go your way, and tell John
what things ye have seen and heard;
how that the blind see, the lame
walk, the lepers are cleansed,
the deaf hear, the dead are raised,
to the poor the gospel is preached.
Prophecy
Daniel 9:24
Seventy weeks are determined
upon thy people and upon
thy holy city, to finish the
transgression, and to make
an end of sins, and to make
reconciliation for iniquity,
and to bring in everlasting
righteousness, and to seal
up the vision and prophecy,
and to anoint the most Holy.
Fulfilled
Acts 10:38
How God anointed Jesus of
Nazareth with the Holy Ghost
and with power: who went
about doing good, and healing
all that were oppressed of the
devil; for God was with him.
Luke 44:18
The Spirit of the Lord
is upon me, because he hath
anointed me to preach the
gospel to the poor; he hath
sent me to heal the broken-
hearted, to preach deliverance
to the captives, and recovering
of sight to the blind, to set at
liberty them that are bruised,
Prophecy
Psalms 78:1-3
Give ear, O my people, to my law:
incline your ears to the words of my
mouth.
I will open my mouth in a parable:
I will utter dark sayings of old:
Which we have heard and known,
and our fathers have told us.
Fulfilled
Matthew 13:34,35
All these things spake Jesus unto
the multitude in parables; and
without a parable spake he not
unto them:
That it might be fulfilled which
was spoken by the prophet,
saying, I will open my mouth
in parables; I will utter things
which have been kept secret
from the foundation of the world.
Prophecy
Luke 9:27
But I tell you of a truth, there
be some standing here, which shall
not taste of death, till they see the
kingdom of God.
Fulfilled
Luke 9:28
And it came to pass about an eight
days after these sayings, he took
Peter and John and James, and
went up into a mountain to pray.
Luke 9:29-31
And as he prayed, the fashion of his
countenance was altered, and his
raiment was white and glistering.
And, behold, there talked with him
two men, which were Moses and
Elias:
Who appeared in glory, and spake
of his decease which he should
accomplish at Jerusalem.
Prophecy
Zechariah 13:7
Awake, O sword, against
my shepherd, and against
the man that is my fellow,
saith the LORD of hosts:
smite the shepherd, and the
sheep shall be scattered: and
I will turn mine hand upon
the little ones.
Matthew 26:31
Then saith Jesus unto them,
All ye shall be offended
because of me this night: for
it is written, I will smite the
shepherd, and the sheep of the
flock shall be scattered abroad.
(Mark 14:27)
John 16:32
Behold, the hour cometh, yea,
is now come, that ye shall be
scattered, every man to his
own, and shall leave me alone:
and yet I am not alone, because
the Father is with me.
Fulfilled
Matthew 26:56
But all this was done, that
the scriptures of the prophets
might be fulfilled. Then all
the disciples forsook him,
and fled.
Mark 14:50
And they all forsook him, and fled.
Prophecy
John 18:8
Jesus answered, I have
told you that I am he: if
therefore ye seek me, let
these go their way:
John 17:12
While I was with them in the
world, I kept them in thy name:
those that thou gavest me I have
kept, and none of them is lost, but
the son of perdition; that the
scripture might be fulfilled.
Fulfilled
John 18:9
That the saying might be fulfilled,
which he spake, Of them which
thou gavest me have I lost none.
Prophecy
Psalms 35:19
Let not them that are mine enemies
wrongfully rejoice over me: neither
let them wink with the eye that hate
me without a cause.
Psalms 35:8
Let destruction come upon him
at unawares; and let his net that
he hath hid catch himself: into
that very destruction let him fall.
Fulfilled
John 15:25
But this cometh to pass, that
the word might be fulfilled
that is written in their law,
They hated me without a cause.
Matthew 27:4
Saying, I have sinned in that
I have betrayed the innocent
blood. And they said, What
is that to us? see thou to that.
Prophecy
Zechariah 11:12
And I said unto them,
If ye think good, give
me my price; and if
not, forbear. So they
weighed for my price
thirty pieces of silver.
Zechariah 11:13
And the LORD said unto me,
Cast it unto the potter: a goodly
price that I was prised at of
them. And I took the thirty
pieces of silver, and cast them
to the potter in the house of the
LORD.
Fulfilled
Matthew 26:15
And said unto them, What
will ye give me, and I will
deliver him unto you? And
they covenanted with him
for thirty pieces of silver.
Matthew 27:3
Then Judas, which had
betrayed him, when he saw
that he was condemned,
repented himself, and brought
again the thirty pieces of silver
to the chief priests and elders,
Matthew 27:7
And they took counsel, and
bought with them the potter's
field, to bury strangers in.
Prophecy
Psalms 41:9
Yea, mine own familiar friend,
in whom I trusted, which did
eat of my bread, hath lifted up
his heel against me.
Fulfilled
John 13:18
I speak not of you all: I know
whom I have chosen: but that
the scripture may be fulfilled,
He that eateth bread with me
hath lifted up his heel against
me.
Prophecy
Isaiah 50:6
I gave my back to the smiters,
and my cheeks to them that
plucked off the hair: I hid not
my face from shame and
spitting.
Fulfilled
Matthew 26:67
Then did they spit in his face,
and buffeted him; and others
smote him with the palms of
their hands,
Mark 14:65
And some began to spit on him,
and to cover his face, and to buffet
him, and to say unto him, Prophesy:
and the servants did strike him with
the palms of their hands.
Luke 22:64
And when they had blindfolded him,
they struck him on the face, and asked
him, saying, Prophesy, who is it that
smote thee?
John 18:22,23
And when he had thus spoken,
one of the officers which
stood by struck Jesus with
the palm of his hand, saying,
Answerest thou the high
priest so?
Jesus answered him,
If I have spoken evil,
bear witness of the evil:
but if well, why smitest
thou me?
Prophecy
Psalms 22:1
To the chief Musician upon
Aijeleth Shahar, A Psalm of
David. My God, my God,
why hast thou forsaken me?
why art thou so far from
helping me, and from the
words of my roaring?
Fulfilled
John 19:30
When Jesus therefore had
received the vinegar, he said,
It is finished: and he bowed
his head, and gave up the
ghost.
Matthew 27:46
And about the ninth hour Jesus
cried with a loud voice, saying,
Eli, Eli, lama sabachthani? that
is to say, My God, my God, why
hast thou forsaken me?
Matthew 27:50
Jesus, when he had cried again
with a loud voice, yielded up the
ghost.
Prophecy
Isaiah 53:12
Therefore will I divide him
a portion with the great, and
he shall divide the spoil with
the strong; because he hath
poured out his soul unto death:
and he was numbered with the
transgressors; and he bare the
sin of many, and made
intercession for the transgressors.
Fulfilled
Mark 15:28
And the scripture was fulfilled,
which saith, And he was numbered
with the transgressors.
Luke 22:37

For I say unto you, that this

that is written must yet be

accomplished in me, And he

was reckoned among the

transgressors: for the things

concerning me have an end.
Matthew 27:38
Then were there two thieves
crucified with him, one on the
right hand, and another on the
left.
Prophecy
Psalms 22:17
I may tell all my bones: they
look and stare upon me.
Psalms 34:20
He keepeth all his bones: not
one of them is broken.
Fulfilled
John 19:33
But when they came to Jesus,
and saw that he was dead
already, they brake not his legs:
Prophecy
Psalms 22:16

For dogs have compassed me:

the assembly of the wicked have

enclosed me: they pierced my

hands and my feet.
Zechariah 12:10

And I will pour upon the house

of David, and upon the inhabitants of

Jerusalem, the spirit of grace and of

supplications: and they shall look upon

me whom they have pierced, and they

shall mourn for him, as one mourneth

for his only son, and shall be in bitterness

for him, as one that is in bitterness for

his firstborn.
Zechariah 13:6

And one shall say unto him, What are

These wounds in thine hands? Then

He shall answer. Those with which

I was wounded in the house of my

friends.

Fulfilled

John 19:37

And again another scripture

saith, They shall look on

Him whom they pierced."

John 19:34

But one of the soldiers with

a spear pierced his side, and

forthwith came there out

blood and water.
Prophecy
Isaiah 53:9
And he made his grave with
the wicked, and with the rich
in his death; because he had
done no violence, neither was
any deceit in his mouth.
Fulfilled
Matthew 27:57
When the even was come,
there came a rich man of
Arimathaea, named Joseph,
who also himself was Jesus'
disciple:
Matthew 27:60
And laid it in his own new tomb,
which he had hewn out in the rock:
and he rolled a great stone to the
door of the sepulcher, and departed.
Prophecy
Psalms 22:18
They part my garments among
them, and cast lots upon my
vesture.
Fulfilled
Matthew 27:35
And they crucified him, and
parted his garments, casting
lots: that it might be fulfilled
which was spoken by the
prophet, They parted my
garments among them, and
upon my vesture did they
cast lots.
John 19:24
They said therefore among
themselves, Let us not rend
it, but cast lots for it, whose
it shall be: that the scripture
might be fulfilled, which saith,
They parted my raiment among
them, and for my vesture they
did cast lots. These things
therefore the soldiers did.
Luke 23:34

Then said Jesus, Father, forgive

them; for they know not what they

do. And they parted his raiment,

and cast lots.

Prophecy
Psalms 69:21

They gave me also gall for my meat;

and in my thirst they gave me vinegar

to drink.

Fulfilled

Matthew 27:34

They gave him vinegar to drink

mingled with gall: and when he

had tasted thereof, he would not

drink.

Prophecy

Haggai 2:21

Speak to Zerubbabel, governor

of Judah, saying, I will shake

the heavens and the earth;

Fulfilled
Matthew 27:51

And, behold, the veil of the temple

was rent in twain from the top to

the bottom; and the earth did quake,

and the rocks rent;

Matthew 27:54
Now when the centurion, and
they
that were with him, watching Jesus,
saw the earthquake, and those things
that were done, they feared greatly,
saying, Truly this was the Son of
God.
Prophecy
2 Chronicles 6:1
Then said Solomon, The LORD
hath said that he would dwell in the
thick darkness.
Psalms 18:11
He made darkness his secret
place; his pavilion round about
him were dark waters and
thick clouds of the skies.
Fulfilled
Matthew 27:45
Now from the sixth hour there
was darkness over all the land
unto the ninth hour.
The Spirit Of Prophecy Volume
Three p 173
Now he learned that the Saviour died at the
very moment when the mysterious darkness that enshrouded the earth had passed away.
The Spirit of Prophecy
Volume Three PG 163
Inanimate nature expressed a sympathy with its insulted and dying Author. The sun refused to look upon the awful scene. Its full, bright rays were illuminating the earth at midday, when suddenly it seemed to be blotted out. Complete darkness enveloped the cross, and all the vicinity about, like a funeral pall. There was no eclipse or other natural cause for this darkness, which was deep as midnight without moon or stars. The dense blackness was an emblem of the soul-agony and horror that encompassed the Son of God. He had felt it in the garden of Gethsemane, when from his pores were forced drops of blood, and where he would have died had not an angel been sent from the courts of Heaven to invigorate the divine sufferer, that he might tread his blood-stained path to Calvary.
Prophecy
Isaiah 33:10

Now will I rise, saith the LORD;

now will I be exalted; now will I

lift up myself.
Matthew 20:18

Behold, we go up to Jerusalem;

and the Son of man shall be betrayed

unto the chief priests and unto the

scribes, and they shall condemn him

to death,
Matthew 20:19

And shall deliver him to the Gentiles

to mock, and to scourge, and to crucify

him: and the third day he shall rise again.

(Mark 8:31)(Mark 9:31 & 10:34,

Luke 18:33, 24:7,24:46)

Matthew 27:63

Saying, Sir, we remember that that

deceiver said, while he was yet alive,

After three days I will rise again.
Fulfilled
Matthew 28:5

And the angel answered and said

unto the women, Fear not ye: for

I know that ye seek Jesus, which

was crucified.
Matthew 28:6

He is not here: for he is risen,

as he said. Come, see the place

where the Lord lay.
Mark 16:6

And he saith unto them, Be

not affrighted: Ye seek Jesus

of Nazareth, which was crucified:

he is risen; he is not here: behold

the place where they laid him.
Prophecy
Psalms 49:9

That he should still live for ever,

and not see corruption.

Numbers 14:21

But as truly as I live, all the

earth shall be filled with the glory

of the LORD.
Deuteronomy 32:40

For I lift up my hand to heaven,

and say, I live for ever.
Isaiah 26:19

Thy dead men shall live, together with

my dead body shall they arise. Awake

and sing, ye that dwell in dust: for thy

dew is as the dew of herbs, and the

earth shall cast out the dead.
Job 19:25

For I know that my redeemer

liveth, and that he shall stand at

the latter day upon the earth:
Fulfilled
John 14:19

Yet a little while, and the world

seeth me no more; but ye see me:

because I live, ye shall live also.