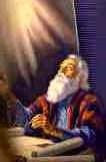 Time Of The End
We have reached the period foretold in these scriptures. The time of the end is come, the visions of the prophets are unsealed, and their solemn warnings point us to our Lord's coming in glory as near at hand.
The Jews misinterpreted and misapplied the word of God, and they knew not the time of their visitation. The years of the ministry of Christ and His apostles,--the precious last years of grace to the chosen people,--they spent in plotting the destruction of the Lord's messengers. Earthly ambitions absorbed them, and the offer of the spiritual kingdom came to them in vain. So today the kingdom of this world absorbs men's thoughts, and they take no note of the rapidly fulfilling prophecies and the tokens of the swift-coming kingdom of God.
"But ye, brethren, are not in darkness, that that day should overtake you as a thief. Ye are all the children of light, and the children of the day: we are not of the night, nor of darkness." While we are not to know the hour of our Lord's return, we may know when it is near. "Therefore let us not sleep, as do others; but let us watch and be sober." 1 Thessalonians 5:4-6.
DA 235