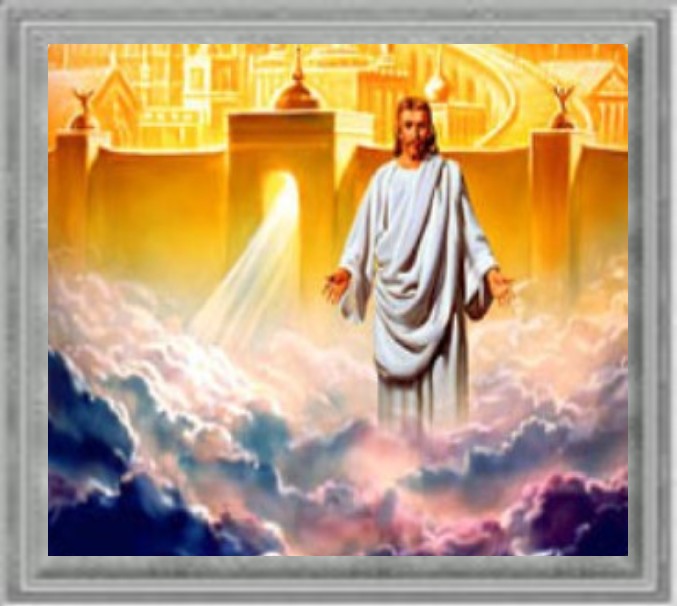 Presence Of His Glory
Rapture unutterable thrills every heart, and each voice is raised in grateful praise: "Unto Him that loved us, and washed us from our sins in his own blood, and hath made us kings and priests unto God and his Father; to him be glory and dominion forever and ever." [Revelation 1:5, 6.]
Before the ransomed throng is the holy city. Jesus opens wide the pearly gates, and the nations that have kept the truth enter in. There they behold the Paradise of God, the home of Adam in his innocency. Then that voice, richer than any music that ever fell on mortal ear, is heard, saying, "Your conflict is ended." "Come, ye blessed of my Father, inherit the kingdom prepared for you from the foundation of the world."
Now is fulfilled the Saviour's prayer for his disciples, "I will that they also whom thou hast given me be with me where I am." "Faultless before the presence of His glory with exceeding joy," [Jude 24.] Christ presents to the Father the purchase of his blood, declaring, "Here am I, and the children whom thou hast given me." "Those that thou gavest me I have kept." Oh, the wonders of redeeming love! the rapture of that hour when the infinite Father, looking upon the ransomed, shall behold his image, sin's discord banished, its blight removed, and the human once more in harmony with the divine!
With unutterable love, Jesus welcomes his faithful ones to the "joy of their Lord." The Saviour's joy is in seeing, in the kingdom of glory, the souls that have been saved by his agony and humiliation. And the redeemed will be sharers in this joy, as they behold, among the blessed, those who have been won to Christ through their prayers, their labors, and loving sacrifice. As they gather about the great white throne, gladness unspeakable will fill their hearts, when they behold those whom they have won for Christ, and see that one has gained others, and these still others, all brought into the haven of rest, there to lay their crowns at Jesus' feet, and praise him through the endless cycles of eternity.
As the ransomed ones are welcomed to the city of God, there rings out upon the air an exultant cry of adoration. The two Adams are about to meet. The Son of God is standing with outstretched arms to receive the father of our race,—the being whom he created, who sinned against his Maker, and for whose sin the marks of the crucifixion are borne upon the Saviour's form. As Adam discerns the prints of the cruel nails, he does not fall upon the bosom of his Lord, but in humiliation casts himself at his feet, crying, "Worthy, worthy is the Lamb that was slain!" Tenderly the Saviour lifts him up, and bids him look once more upon the Eden home from which he has so long been exiled.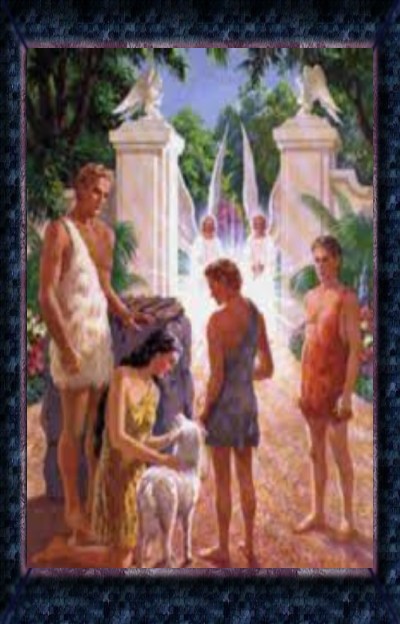 After his expulsion from Eden, Adam's life on earth was filled with sorrow. Every dying leaf, every victim of sacrifice, every blight upon the fair face of nature, every stain upon man's purity, was a fresh reminder of his sin. Terrible was the agony of remorse as he beheld iniquity abounding, and, in answer to his warnings, met the reproaches cast upon himself as the cause of sin. With patient humility he bore, for nearly a thousand years, the penalty of transgression. Faithfully did he repent of his sin, and trust in the merits of the promised Saviour, and he died in the hope of a resurrection. The Son of God redeemed man's failure and fall, and now, through the work of the atonement, Adam is re-instated in his first dominion.
Transported with joy, he beholds the trees that were once his delight,—the very trees whose fruit he himself had gathered in the days of his innocence and joy. He sees the vines that his own hands have trained, the very flowers that he once loved to care for. His mind grasps the reality of the scene; he comprehends that this is indeed Eden restored, more lovely now than when he was banished from it. The Saviour leads him to the tree of life, and plucks the glorious fruit, and bids him eat. He looks about him, and beholds a multitude of his family redeemed, standing in the Paradise of God. Then he casts his glittering crown at the feet of Jesus, and, falling upon his breast, embraces the Redeemer. He touches the golden harp, and the vaults of Heaven echo the triumphant song, "Worthy, worthy, worthy is the Lamb that was slain, and lives again!" The family of Adam take up the strain, and cast their crowns at the Saviour's feet as they bow before him in adoration. GC88 645-648